June 30th, 2022
How to Calculate the Estimated Costs for Web & Mobile Projects
Imagine the situation when the customer comes with a request to calculate the project timelines asap to the nearest investors meet-up. Even the last minute made estimation should contain the upcoming costs: development, testing, management, and possible risks. The estimation process is shown through the cases of mobile and web development in the article below.
The Process of Project Estimation
Estimation is a time-consuming task , usually involving a group of experts from different fields.. From our experience, it includes a group of five specialists: developers, an analyst, and a designer. The group is headed by a moderator whose role is to ensure that the estimate is accurate and corresponds to our customer's requirements.
Also, a moderator is in charge of:
communications with the customer to clarify requirements and agree on solution options and the technology stack;
supervising the evaluation process;
suggesting implementation options;
assessing and accounting for risks;
assembling a development team;
preparing a preliminary roadmap for the project.
A thorough estimate generally takes 3–5 business days. During this time, we identify possible limitations and risks, determine the technology stack, assemble the team, establish rough deadlines for the project, and calculate the total cost of the project. As soon as the estimates are done, we contact the customer. From our experience, this stage involves a lot of adjustments. Usually, the common reasons are:
the customer's requirements have changed — perhaps the client has determined more detailed technical requirements and models;
there may be a need for staged implementation, starting with an MVP, tailored to budget considerations or the client's own deadlines;
or even if there is a need to change the technological stack, if the customer comes up with the new business-oriented tasks and infrastructure specifications.
Management Risks and Project Costs
Doing an estimation, you should take into account project management costs, including the following:
assigning and monitoring tasks;
conducting meetings;
communication with the customer and eliminating obstacles;
developing team retrospectives; conducting a demo with the customer;
processing metrics and evaluating risks.
The project manager tracks any and all risks that may impact the cost of the project and cause deadline breaches during implementation. Some of these risks can be detected early, such as:
if the team members perform extra work on a regular basis, especially if overtime exceeds 10–15%;
the testing documentation is not up-to-date in accordance with the technical specification, which is constantly changed;
if the actual time of task completion is far greater than the estimated time.
In general, risk management is always a challenge for the project manager. Everyone seems to have a take on how to calculate them and how to reduce them. Let's review the cases of two mobile apps from our practice to examine how the estimated time and costs may differ.

Estimating Project Costs
While developing new modules, the team will have to complete different tasks depending on the project type:
Acceptance into Service
Design and analytics
Project development and integration with other IT systems
Testing and Quality Assurance (QA)
We wanted to determine the average distribution of project costs across the entire range of developmental phases. To get the statistics, we analyzed a selection of mobile and web-based MVP projects. The total costs for their implementation ranged from 2,000 to 4,500 hours.
Web App
We calculated project cost shares for different types of work in these projects (as a percentage):
Analytics — 7%
Backend — 30%
Frontend — 24.6%
Testing — 15%
Management — 22%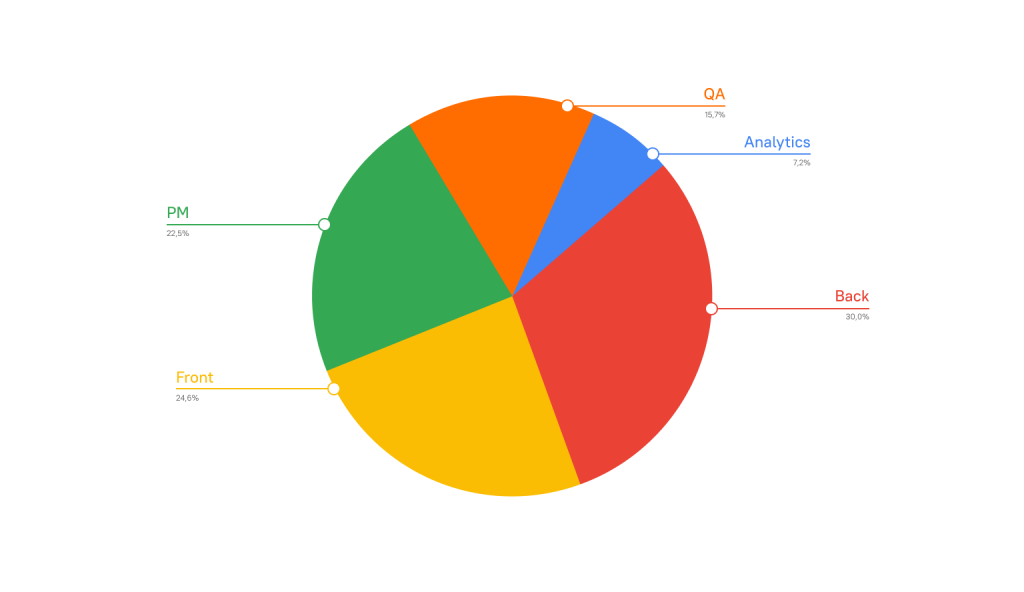 From practical experience, we know that development takes up to 50–60% of the total time required to implement a web app.

You can therefore roughly estimate the number of hours required for development itself and multiply that figure by 2 to get an initial approximation of the time needed for the entire project. However, each project should preferably receive an individual estimate that accounts for its technology stack, complexity, and other characteristics.
Mobile Development
The process is slightly different for products designed for smartphones and other portable devices. To analyze the project costs, we have put together a selection of our completed mobile projects for Android and iOS. In doing so, we proceeded from the assumption that the administrative panel in all projects was based on standard components of the development framework.
The project cost distribution for mobile projects is indicated below:
Analytics — 3.8%
Backend — 18.9%
iOS — 16.1%
Android — 25.8%
Testing — 25.1%
Management — 10.3%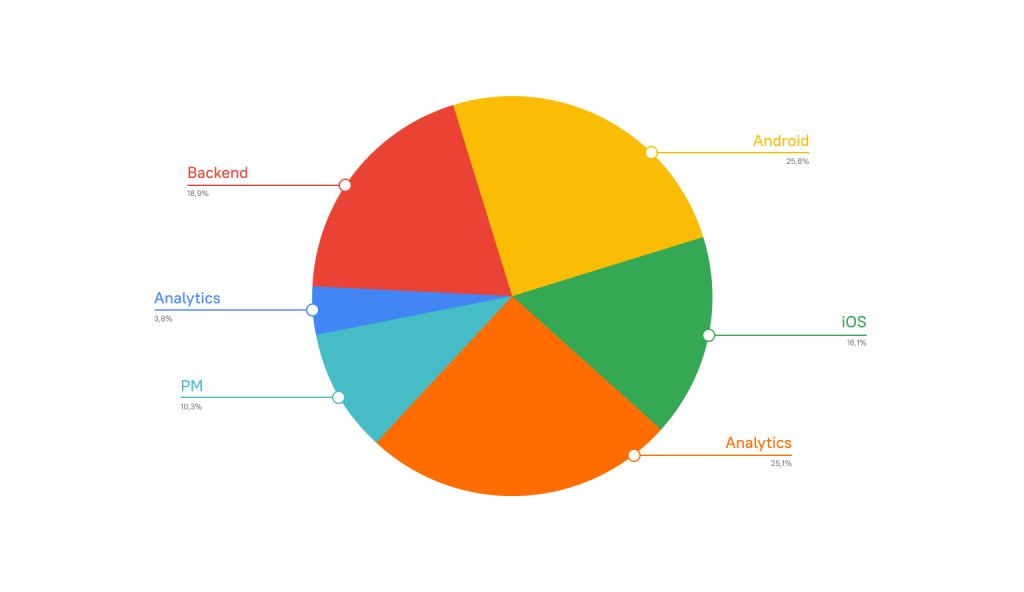 According to our estimates, backend development and mobile development account for roughly 60% of project costs on average.
In comparison, mobile projects often require more hours to complete than web apps due to the implementation and testing on several platforms. The range of available mobile devices is always expanding, so testing requires 10% more time on average for mobile projects than it does for web projects.
In Conclusion
In this article, we discussed the features of project cost distribution for different kinds of products. Development usually amounts to an average of 50% of total project costs in our web projects and 60% in our mobile projects.
Our sample is based on customer design, and most projects were MVP projects. Our calculations may, therefore, be unsuitable for other types of projects, such as long-term support projects. Every project is different and has individual characteristics that may impact the distribution of project hours.
We hope that our experience may prove useful for predicting risks, conducting high-level assessments, and verifying calculations at the start of a project. If the estimate for the project at this stage needs adjustments, another estimate can be conducted, and project costs can be adjusted in order to complete the work on time with a full team.
Learn more about autotests implementation in our article: Test Automation and What You Need to Consider When Implementing It.
Join our Medium community to keep up-to-date with our experts' insights: Top 6 Business Tips to Avoid Mistakes in Product Development
Enjoyed this article?
Subscribe to the SimbirSoft newsletter! We will sometimes send you emails about some development lifehacks, share our experience in team management, and tell you about the upcoming SibmirSoft events.