17 June
What is UI/UX and What is the Difference
Author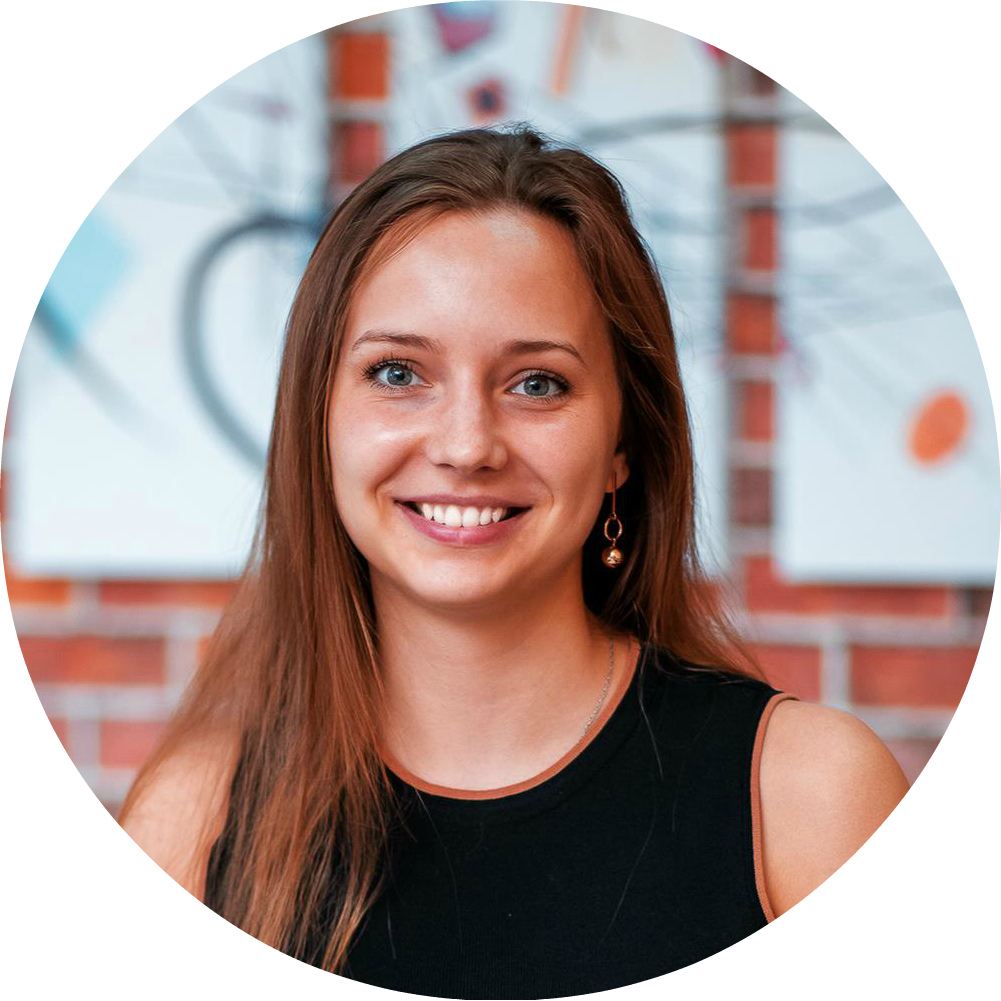 Olga
UI and UX are the substantial terms in modern software development and are essential for a good product creation. But what really lies behind these abbreviations?

First of all it is important to mention, that comparing them with each other is a mistake. These are two different concepts that have to be considered separately. In spite of this, both of these elements are crucial for the final result and are connected to each other.

UX Design or User Experience Design in general is an analytical and "business" area of ​​development, while UI Design or User Interface Design is what we sometimes mistakenly call graphic design. In fact, everything is much more complicated.

Imagine that our future product is some kind of a "building". The stone, the frame, the pillars and the beams are the program code that gives it structure and does not allow it to fall apart. Walls, rooms, doorways and windows are the UX dimension and space optimisation for its comfortable use. At the same time, UI is a wall finish, laminate layer and everything that creates the look of your house and its comfort for users.

UI and UX are design spheres that cannot be mixed together, but which cannot exist without each other. A great product starts with UX and is followed by UI. Let's take a closer look at each of these concepts.
How Does UX Work?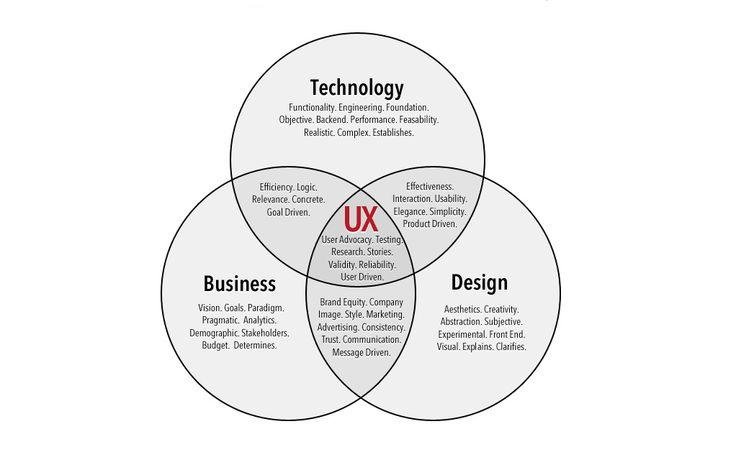 User experience is the process of identification of user's problems and of resolving these problems in order to increase the users' satisfaction. Improving comfort and satisfaction that a customer gets while interacting with a product determine the quality and relevance of this product.

You do not notice the result of the UX designer's work until everything works well. But if you start wondering "What to do next to solve my problem?" while working with a product, then you got a bad UX.

User experience is a real science, as architecture and psychology are. It is based on user group research, information architecture, usability, content strategy. As a result of these components combination appears a solution of goals and needs in the way that makes the greatest sense for a person that use a specific function. UX Designer is a user assistant. He or she will listen and understand all the problems of the client and create the most favorable solutions for achieving the user's goals.

In fact, the issues of UX design are subjective, since they are often associated with the individual perception of a product or a service. That is why one issue can have many solutions. The goal of the designer is to choose the most successful way that suits the maximum number of users.

What are the Main Objectives of a UX Designer?
Strategy and structure. UX designers elisitate and analyze information about users and major stakeholders, determine the goals and wishes of customers, as well as analyze how they are already solved in the market. Based on this analysis, the most successful and flexible solution for a particular product is found. They develop the structure and vision of an application.
Warframes and prototype creation. Warframes are based on the chosen strategy, and working prototypes are made of them. Testing and development of prototypes allows you to identify problem areas and create a smooth process of how user interact with the interface.
Development and feedback. The work of UX Designers does not end with a prototype, they take part in all stages of product development, coordinating work with developers and interface designers. They are also responsible for realizing the business goals of the product.
UX Designer ensures that the product created by the company meets the needs of users and allows them to easily achieve the desired result. UX Designer, like a good wizard, builds a wide and convenient yellow brick road for the user, which will surely lead him to the solution of even the most difficult problem.

Let's sum up:
User experience design is the process of designing and improving the quality interaction between the user and the application.
UX Designer is engaged in the process of research, testing, development, content and prototype creation to check the quality of the results.
UX is a non-digital practice, but is used and determined primarily by digital industries.
How Does UI Work?
User Interface is an intermediary between the device and the person. This is not only the appearance, but also the way of interaction between user and program.

It is a rather common situation when user interface design is recognised as graphic design, branding, and even interface design. UI is a complex structure that is responsible for making product from research and layouts into an attractive, understandable and responsive user experience.

If UX is a science, then UI is an art that focuses on all elements of a product that make it attractive: colors, button style, graphics, animation, typography, infographics, widgets, behavior, button responses, and so on. The UI Designer is responsible for how the user will perceive the product from a visual point of view. Designer takes the scientific findings and conclusions of UX and turns them into a certain form of art. It depends on him/her, how we will see the product in the end. A successful combination of iconography, typography, colors, space and textures will help the user to easily navigate the finished application.

User should feel himself comfortable while using the product. It depends not only on an intuitive interface, but also on how this interface looks. Visual design is the product's personality.

So, What About the Main Objectives of a UI Designer?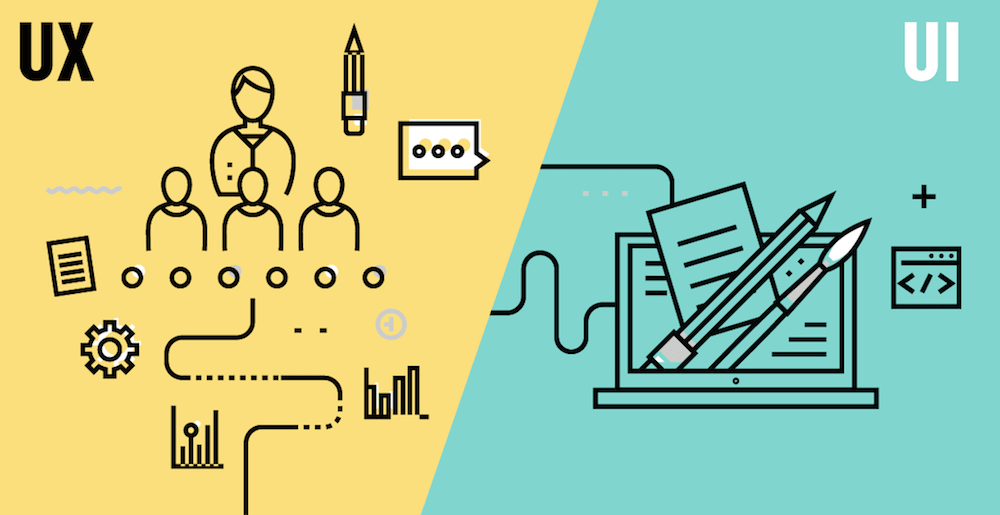 On the basis of
our experience
, we can point out the main objectives of any UI Designer include:
Storytelling. It is very important for a UI Designer to understand, how the human brain reacts to certain visual cues. For example, in order to show the user that the picture he/she is looking at is also a button that can be clicked on to get additional information. The task of the UI Designer is to help the user to use the application correctly, relying on its visual elements, while using as few words as possible.
Graphics and animations. Illustrations and various graphic elements create a sense of uniqueness. In addition, User Interface Designers can be involved in logo design, branding, and other marketing elements to maintain the integrity of the product image.
Responsiveness. UI prototyping, animation and adaptability are those aspects that will ensure maximum comfort of using the product on any device.
In order to become a good UI-designer you need experience, a lot of practice and a lot of mistakes. The main goal is not just to create an attractive interface, but to get an emotional user response from using the product. Each user who opens the application, or gets on the site, goes on a journey along the road that the UX Designer has laid out for them. But it depends only on the UI Designer whether this journey will be exciting and unforgettable.
Let's sum up:
User interface design is responsible for transferring the visual aspects of the brand to the product interface.
User interface design is a process of visual user management through the product interface using interactive elements, providing information exchange between a human and software components.
What do UX and UI Designers Focus On?
In general, UX is how the user interacts with the product, and the UI is how the product will be perceived by that user. UI and UX Designers focus on different aspects of creating an application and treat users differently. UX Designers focus on user interaction with information, and UIs take care of appearance and interactive design. UX Designer creates a special ecosystem that conveys the core business idea, and the UI, in turn, gives this system life, translating it into the real world through the use of visual signals that will cause the desired response from users.

Good designers understand that the user comes to the site or works with the application, having a clear goal or objective. In our practice we always try to solve the problems of users quickly and conveniently in order to create positive emotions. Yes, UI and UX designers create emotions. They aim to make users relaxed and free, as they use a digital platform that solves all their questions.
About Us
SimbirSoft is a modern IT-company, specialising in the implementation of end-to-end software & mobile development projects. Within 18 years, we have developed more than 600 IT solutions: enterprise automation systems, highly loaded systems, mobile applications, Machine Learning & Data Science solutions, embedded software. Today we collaborate with many international companies such as ABBYY, Burger King, Intland Software.
_____

Learn more about the IT product creation process from our recent article:7 Must Have Features of Successful IT Project

Here is a story of one of our projects involved UX/UI, QA and SDET collaboration: How to Make a Version 3.0 of Almost Any IT Project and Survive